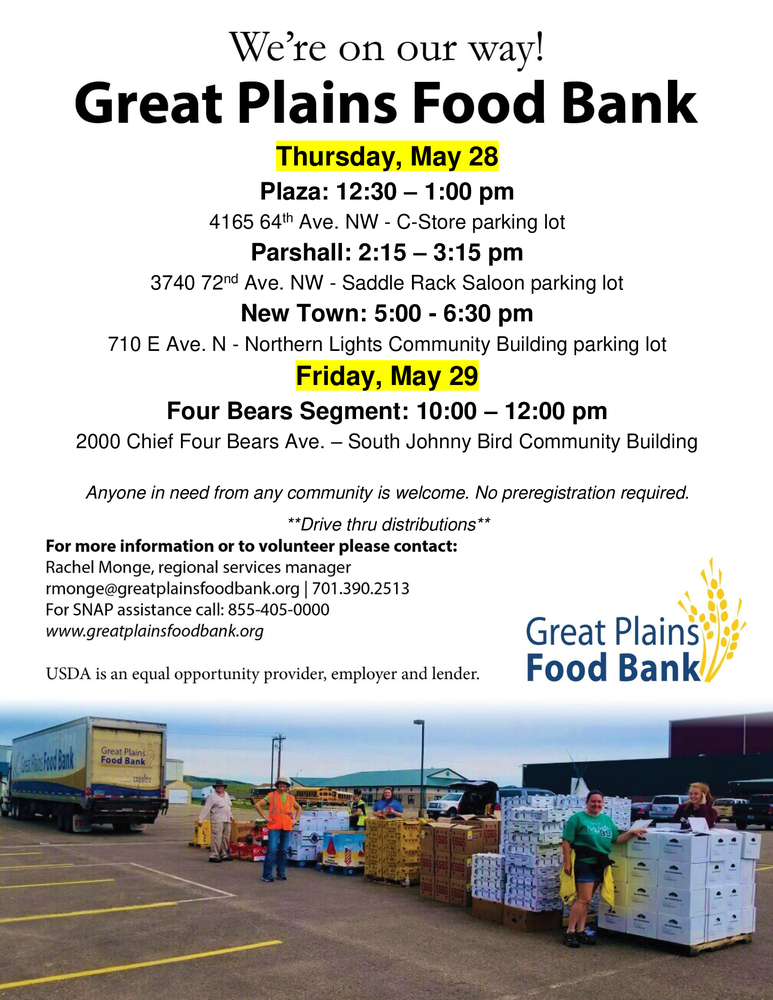 Great Plains Food Bank is coming May 28 and 29
New Town School District
Friday, May 22, 2020
The Great Plains Food Bank Mobile Food Pantry will be making stops in Plaza, Parshall, and New Town on Thursday, May 28 and on May 29 at the Four Bears Segment. See flyer for locations and times!
Anyone in need of food assistance from any community is welcome to attend this drive thru distribution. Due to the current pandemic we are facing, clients will be asked to remain in their vehicles at all times. A few intake questions will be asked on site and then clients will drive through the distribution line. We welcome those who cannot attend to designate someone to pick up for them. Volunteers will be asked to sanitize, wear gloves and masks, and follow social distancing guidelines.
Hunger is an issue that we can do something about. Here are several ways you can help:
Post the attached flyer about this upcoming event around your community
Talk about the event with your family, friends, neighbors, and coworkers
Share the attached JPG on your social media networks!
· Respond to the Facebook event links to get updates and reminders
· Volunteer at a distribution! Contact Rachel at 701-390-2513 if you can help or know of other individuals or groups who might be interested.
· Pick Up for someone who cannot attend the distribution.
Thanks for your help in addressing hunger in your community!