The Senior Class of 2022 is currently selling raffle tickets for a chance to win: 1) a star quilt; 2) AirPod Pros; 3) Instax Camera. The drawing will be held on May 20, 2022 at 7 pm.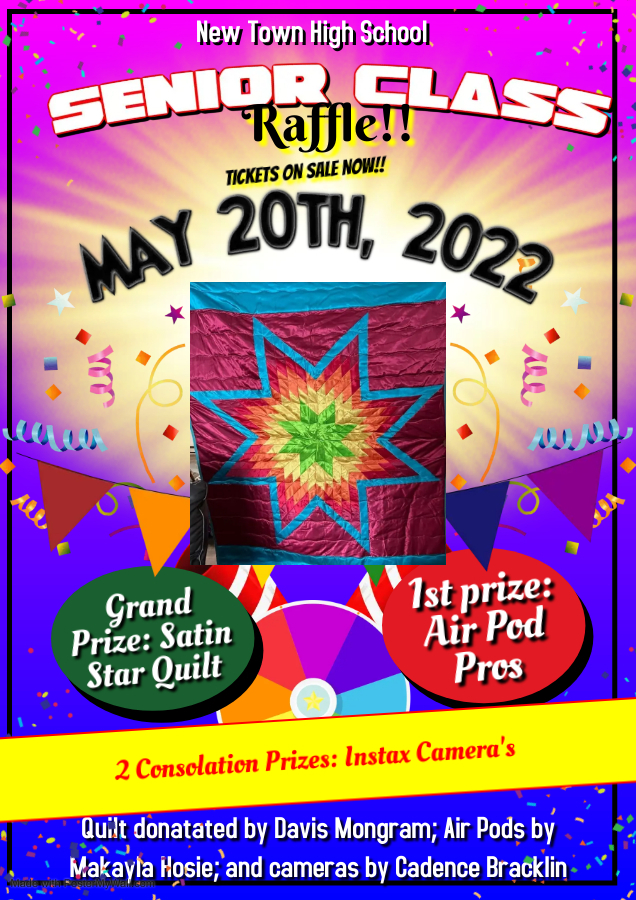 There will be a Senior Class of 2022 meeting in the computer lab on Sunday, May 1st at noon. Please be there!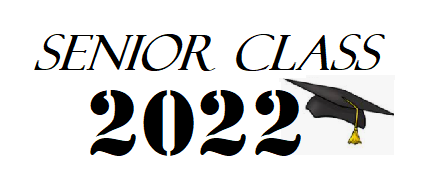 Zoe Fox and Kaitlyn Mossett interviewed with KHRT to represent NTHS as the class valedictorian and salutatorian. Their interviews will be aired as listed below: New Town High School Kaitlyn Mossett 1320 AM SUN 5/8/2022 9:45 AM New Town High School Zoe Fox 106.9 FM FRI 5/13/2022 6:35 PM New Town High School Zoe Fox 1320 AM MON 5/30/2022 1:45 PM New Town High School Kaitlyn Mossett 106.9 FM TUE 5/31/2022 9:35 AM

There is Saturday Academy today at both the middle school and high school. We are here to help! Remember, all absences must be down to 7 or below before the end of the year to avoid non-crediting at the high school level.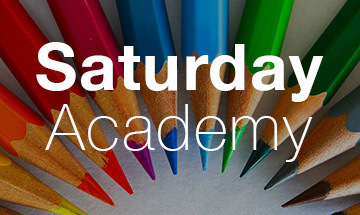 This is a friendly reminder that the spring concert for 5th and 6th grade students is today, Thursday April 28th at 6pm.

See attached for upcoming Covid Vaccination Clinics for the month of May.

NEW TOWN PUBLIC SCHOOL DISTRICT #1 THREE YEAR AND FIVE-YEAR PLAN MEETING MAY 3, 2022 @ 5:30 PM NEW TOWN HIGH SCHOOL CAFETERIA The New Town Public School District is planning to hold a public meeting on Tuesday, May 3, 2022, at 5:30 pm in high school cafeteria. The purpose of this meeting is to seek input from community members and parents into the development of a three year and five-year plan required by the State of North Dakota for all schools. These plans generally look at enrollment trends, budget trends, building project needs, staffing needs, and educational program needs for the school district. In addition, the Title VI, Indian Education Grant application for the 2022-2023 school year will be reviewed. A meal will be served.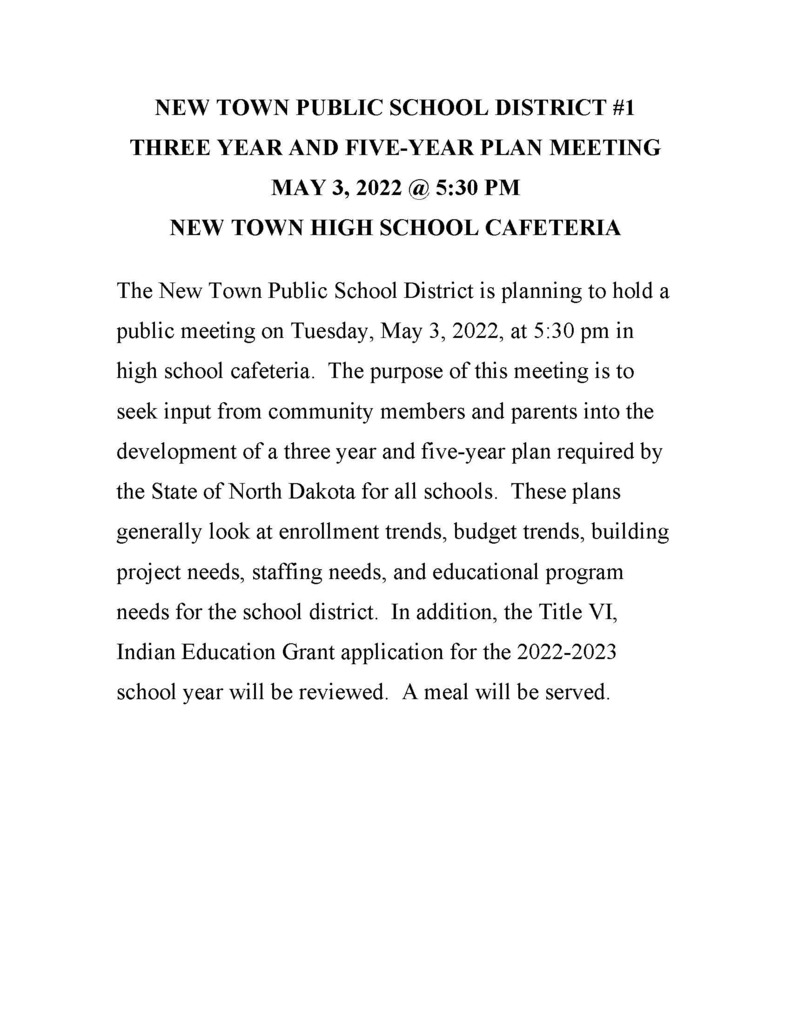 The spring concert for 5th and 6th grade students had been moved to Thursday April 28th at 6pm.

Due to the power outage, there will be no school tomorrow at New Town Public Schools.

8th grade graduation information attached. Please share.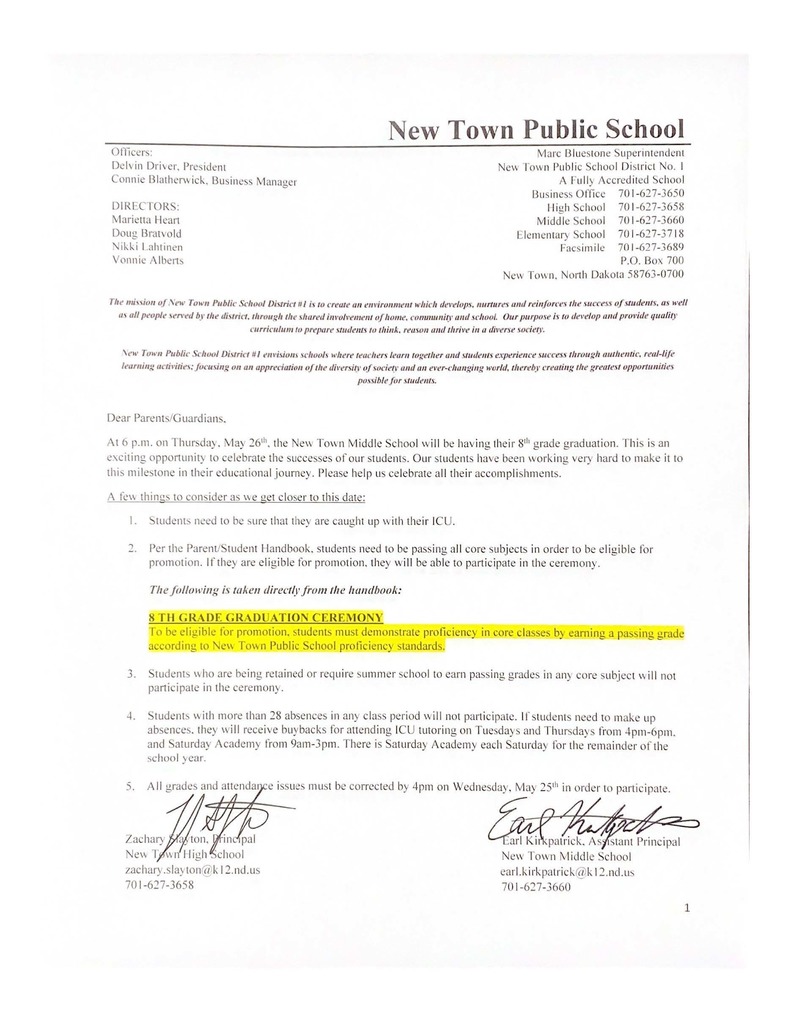 New Town Public Schools Students, Staff and Faculty Invite you to: RECOGNIZING OUR AUXILIARY MEMBERS FRIDAY, MAY 6TH, 2022 NEW TOWN HIGH SCHOOL CAFETERIA 6:00 PM PROGRAM STARTS 6:30 PM MEAL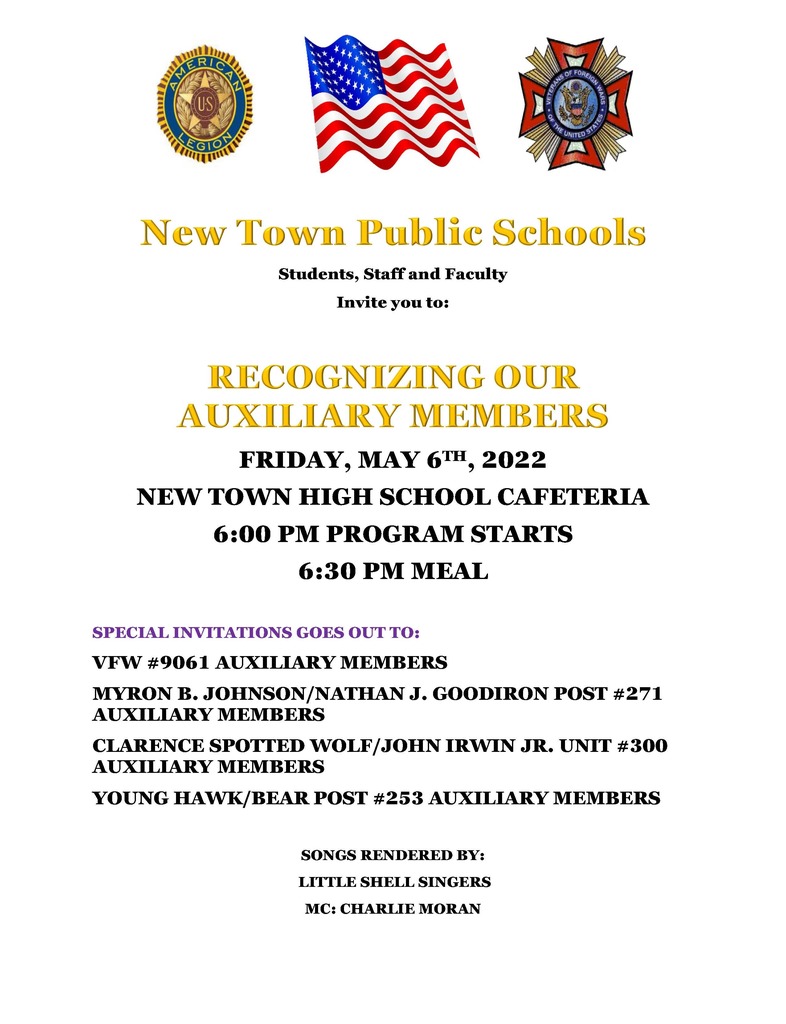 Family Robotics/STEAM Night tonight at the Edwin Loe Elementary School from 6-8 pm. Everyone is welcome. A meal will be served.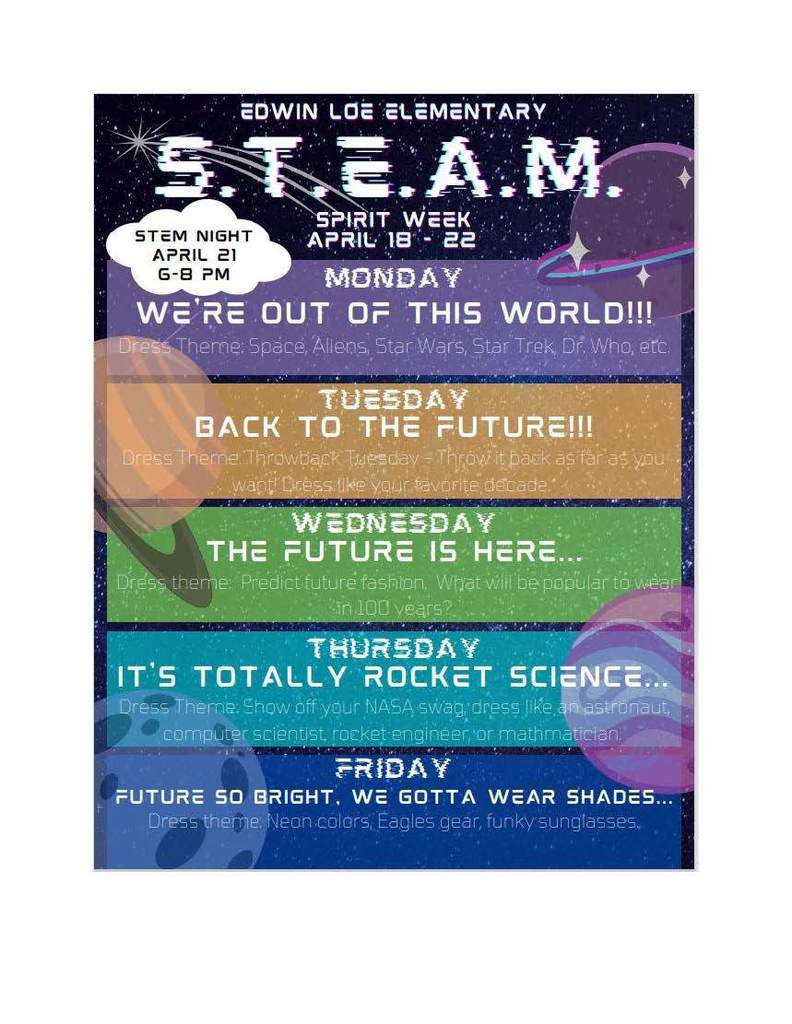 Don't forget! The Robotics/STEAM Family night is today at the elementary school from 6-8 pm.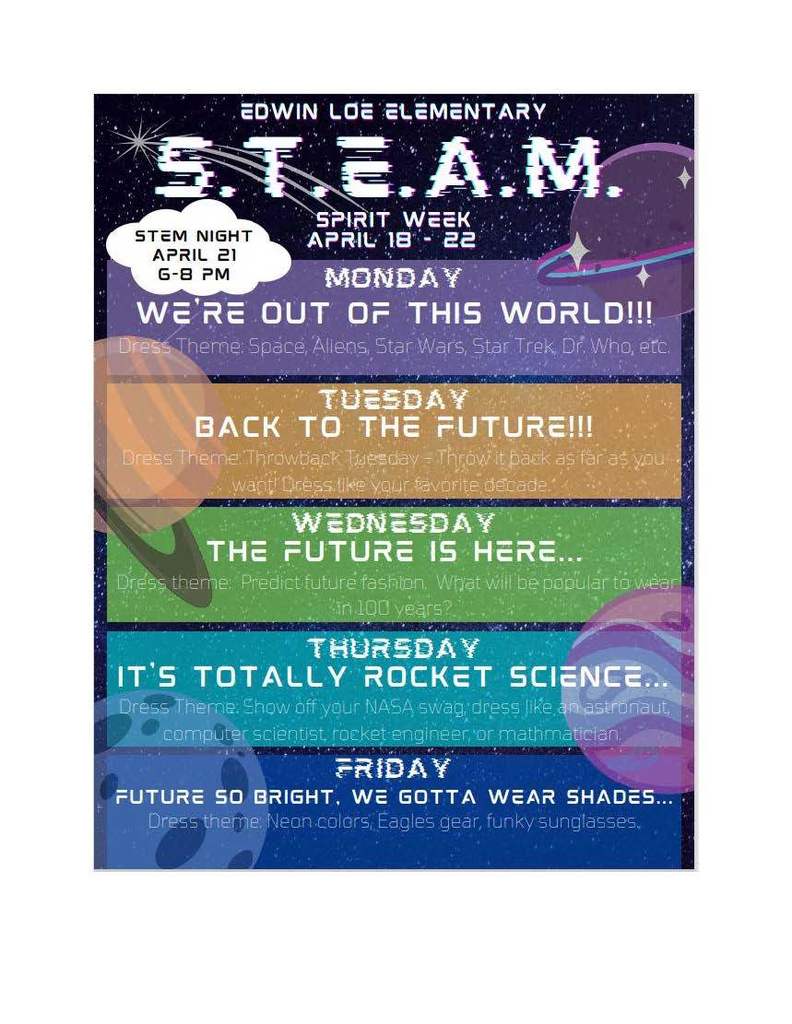 The NTMS and NTHS Spring Concert will be held on May 5th at 7:00 pm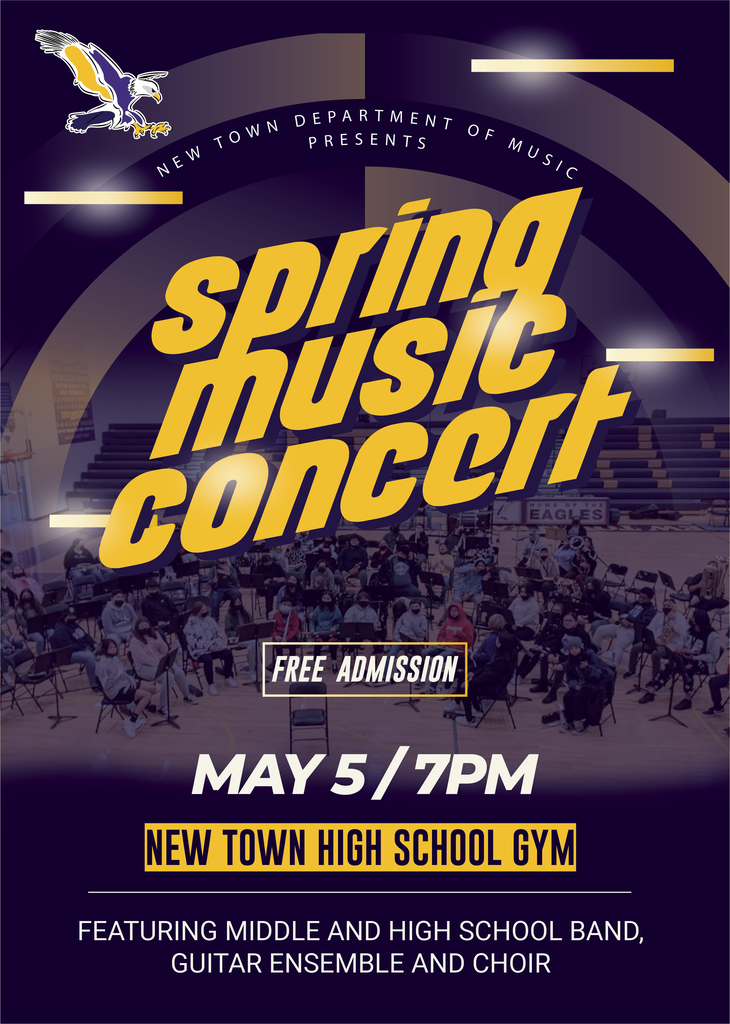 VACCINATE FORT BERTHOLD TIKTOK CHALLENGE To participate, contestants are to submit a TikTok video showing themselves getting vaccinated (any vaccine) or include a creative message explaining, "Why I got vaccinated." Each school will have one $500 gift card winner and two $250 gift card winners based on likes, shares, creativity/humor, and educational content related to the importance of vaccines. The videos can be individual, or group based. All videos will be screened for appropriate content. Sponsored by the Upper Missouri District Health Unit via EMHC, and New Town Public School District #1.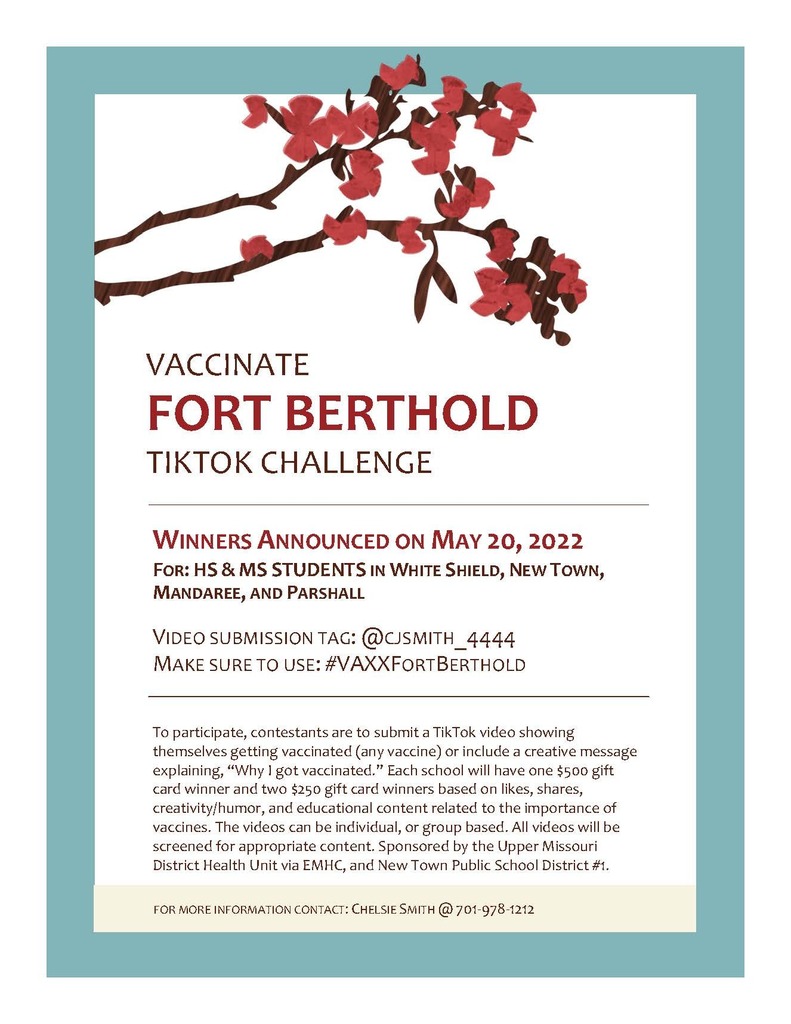 Last evening at the school board meeting, the board voted to make the mask mandate voluntary effective today. Masks will still be available to those that wish to wear them. All daily sanitation procedures will still be followed.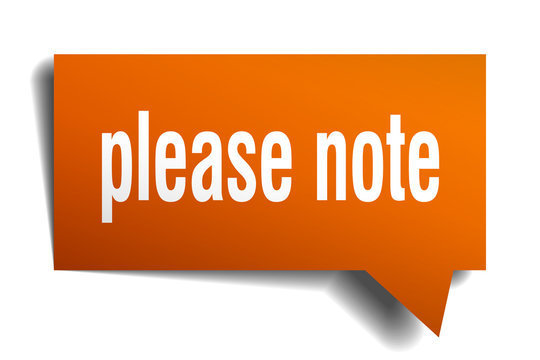 This afternoon, 3 fourth grade students were dropped off at the New Town High School for elementary track practice. However, they did not show up to the practice, if anyone has seen these children, please contact the TAT Police Department.

Happy Easter everyone! School resumes tomorrow, April 19th at 8:30 am. Due to the existing road conditions, buses will run where possible.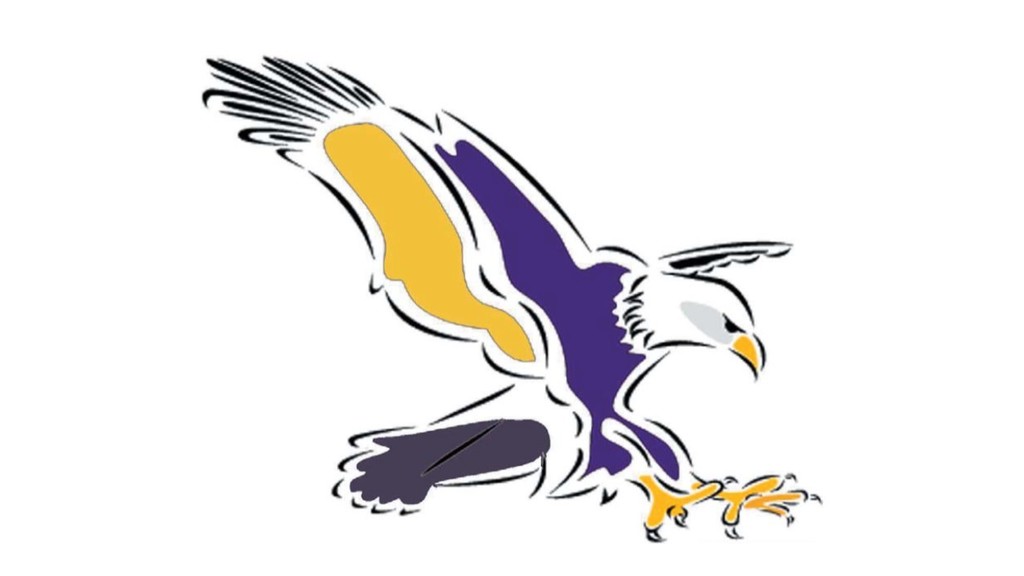 Yolanda is at the CTE Center ready for students to come in. This is the last day of the spring break academy. Have a Happy Easter everyone!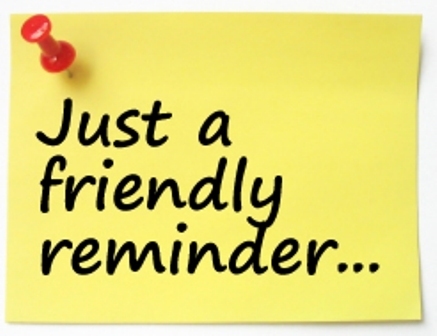 The Spring Break Academy schedule for tomorrow, Wednesday, April 12, 2022 has been cancelled due to the weather.